TORUK - El primer vuelo tickets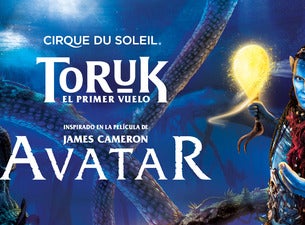 Cirque du Soleil

Do not miss the new Cirque du Soleil show!

Cirque du Soleil was born with the aim of entertaining, moving and evoking a magical world wherever it performed. And he has achieved it. The fantastic shows of this unique circus have earned them numerous awards and recognitions throughout these years. Some of the most famous performances of Cirque du Soleil are 'Nouvelle Expérience', 'Saltimbanco', 'Alegría' or 'Quidam'.

Cirque du Soleil is always synonymous with emotion. The company formed more than 30 years ago in a town near Quebec (Canada) is a world reference. Combining circus arts, music and acrobatics, the Cirque du Soleil shows have become famous around the world and there are already more than 100 million spectators who have enjoyed the company's shows.

One of the latest shows that the Canadian company has put on dance is 'Toruk', a show inspired by the movie 'Avatar' by James Cameron. In this performance, Cirque du Soleil transports its viewers to the universe of Pandora with an impeccable and magical staging. With 'Toruk', the audience will travel through an imaginary world full of fascinating creatures.

Buy now your tickets for Toruk , the new Cirque du Soleil show!
8 Events for TORUK - El primer vuelo
8 Events