Entradas Thirty Seconds To Mars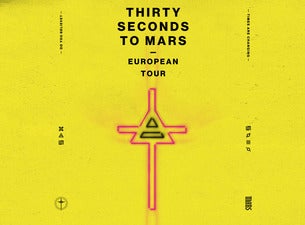 Consulta toda la información
de la gira de
Thirty Seconds To Mars
en nuestro Blog en
este enlace
.
La banda multiplatino
Thirty Seconds To Mars
ha anunciado que se embarcarán en una gran gira europea durante marzo, abril y mayo de 2018.
Jared Leto, Shannon Leto y Tomo Milicevic
son actualmente una de las bandas en directo más vibrantes del mundo, lo que queda reflejado sin duda en la actuación con la que volvieron a los escenarios hace unos meses en los premios MTV VMA. La actuación es toda una muestra de que Thirty Seconds To Mars son capaces de hacer, incluyendo la innovadora tecnología de ultrarojos y con la colaboración especial de Travis Scott. 'Walk On Water' es la canción que interpretaron y es el primer single del que será el quinto álbum de la banda. Actualmente están nominados en la categoría de 'Best Alternative' en los próximos premios MTV European Music Awards, que se celebrarán el próximo 12 de noviembre.
Venta general:
las entradas a público general se podrán adquirir a partir del viernes 13 de octubre a las 9:00h en los canales habituales de Ticketmaster: ticketmaster.es, puntos físicos de Fnac, Halcón Viajes y Viajes Carrefour, y por venta telefónica al 902.150.025.
Precio de las entradas:
50€ + gastos.
Política de acceso a menores:
menores de 16 años acompañados de madre, padre o tutor legal.
42 eventos para Thirty Seconds To Mars
42 Eventos
Eventos en

España

(15)
Thirty Seconds To Mars

jue

21:30
Thirty Seconds To Mars - Platinum

jue

21:30
Thirty Seconds To Mars- Closer to the Edge - Side Stage Package

jue

21:30
Thirty Seconds To Mars- Kings and Queens - Meet and Greet Package

jue

21:30
Thirty Seconds To Mars-Up in the Air- On Stage Package

jue

21:30
Thirty Seconds To Mars

vie

21:30
Thirty Seconds To Mars - Platinum

vie

21:30
Thirty Seconds To Mars- Closer to the Edge - Side Stage Package

vie

21:30
Thirty Seconds To Mars- Kings and Queens - Meet and Greet Package

vie

21:30
Thirty Seconds To Mars- Up in the Air- On Stage Package

vie

21:30
Thirty Seconds To Mars

sáb

21:30
Thirty Seconds To Mars - Platinum

sáb

21:30
Thirty Seconds To Mars- Closer to the Edge - Side Stage Package

sáb

21:30
Thirty Seconds To Mars- Kings and Queens - Meet and Greet Package

sáb

21:30
Thirty Seconds To Mars- Up in the Air- On Stage Package

sáb

21:30
Eventos internacionales
Internacional
(27)