Entradas Queen + Adam Lambert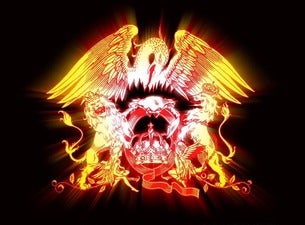 Consulta toda la información
de la gira de
Queen + Adam Lambert
en nuestro Blog en
este enlace
.
Después de su exitosa gira en Europa y el Reino Unido el pasado noviembre y diciembre de 2017,
QUEEN + ADAM LAMBERT
ha confirmado que hará 12 conciertos más en Europa este verano.
La parada en nuestro país será el
9 de junio en Madrid (WiZink Center) y el 10 de junio en Barcelona (Palau Sant Jordi)
.
La gira volverá 2 años después de su anterior visita a España, con una súper producción basada en el
40 aniversario del álbum "News of the World"
.
El espectacular show de la gira de
Queen + Adam Lambert 2017/2018
ha sido diseñado a medida para la banda por algunos de los talentos creativos más innovadores del mundo. El responsable de diseño y producción es Ric Lipson de Entertainment Architects Stufish Productions, reconocido mundialmente por su trabajo innovador con artistas como Pink Floyd, Rolling Stones y U2, así como las ceremonias de apertura y clausura de los Juegos Olímpicos de Beijing 2008.
Consigue ya tus
entradas para los conciertos de Queen + Adam Lambert en Ticketmaster
, y revive los mejores hits del Rock sinfónico que han marcado a tanta gente en todo el mundo.
39 eventos para Queen + Adam Lambert
39 Eventos
Eventos en

España

(10)
Queen + Adam Lambert - The Ultimate On Stage VIP Experience

sáb

21:00
Queen + Adam Lambert - Vip Package

sáb

21:00
Queen + Adam Lambert

sáb

21:00
Queen + Adam Lambert - Platinum

sáb

21:00
Queen + Adam Lambert - Premium

sáb

21:00
Queen + Adam Lambert - The Ultimate On Stage VIP Experience

dom

21:30
Queen + Adam Lambert - Vip Package

dom

21:30
Queen + Adam Lambert

dom

21:30
Queen + Adam Lambert - Platinum

dom

21:30
Queen + Adam Lambert - Premium

dom

21:30
Eventos internacionales
Internacional
(29)
Queen + Adam Lambert

mié

20:00
Queen + Adam Lambert | I Want It All Package

mié

20:00
Queen + Adam Lambert | Platin Tickets

mié

20:00
Queen + Adam Lambert | Premium Package

mié

20:00
Queen + Adam Lambert | Premium Package Loge

mié

20:00
Queen + Adam Lambert | The Ultimate On Stage Experience Package

mié

20:00
Queen + Adam Lambert

vie

20:00
Queen + Adam Lambert - The Ultimate On Stage VIP Experience

vie
Queen + Adam Lambert - I Want It All VIP Experience

vie
Queen + Adam Lambert - PLATINUM

vie