Pearl Jam tickets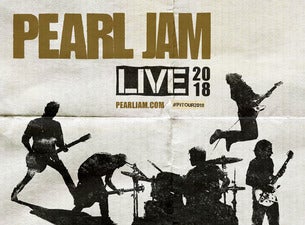 Tickets for Pearl Jam concerts

Anyone wanting to describe Pearl Jam, should use the words 'grunge', 'reference' 'Seattle', 'Eddie Vedder' and '90s' in their first lines. Other references like 'Nirvana', Soundgarden' or 'Alice in Chains' should also be considered in the same equation. .

Since they founded the band in 1990, Pearl Jam has published 10 studio albums achieving to create a large intergenerational audience. Among their albums, their first work stands out. 'Ten' (1991) has hits like 'Even Flow' or 'Alive'; 'Vs' (1993), 'Vitalogy' (1994) or 'Backspacer' (2009).

Pearl Jam always held a style that stands between American hard rock and grunge. Even if Vedder's band has tried different sounds in some of their albums, their composers' identity has always been recognizable. As well as his voice, considered one of the most influential of the last 20 years.

Pearl Jam will be performing in Barcelona and Madrid in 2018 after almost 30 years of musical career, and a long and exciting wait of their fans. It's time to mark this concerts in your agenda. It'll be a fixed date in the 2018 events. calendar for many.

Buy your Pearl Jam concerts tickets with Ticketmaster. Don't miss this great opportunity.
Sorry, no results found for 'Pearl Jam'
Browse by category