Mad Cool Festival 2018 tickets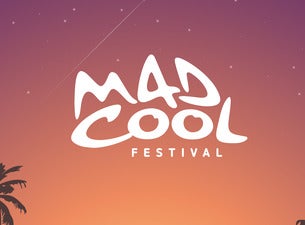 Tickets Mad Cool 2018

Have you miss out subscription for Mad Cool this year? ¡Some day tickets still avalaible!

The countdown to Mad Cool Festival 2018 has begun. The appointment with the third edition of the festival, which will be held on the 12th, the 13th and the 14th July 2018, is loaded with great news. And the Mad Cool 2018 line up couldn't be better. Pearl Jam, Depeche Mode, Queens Of The Stone Age, Tame Impala, Massive Attack, Franz Ferdinand, Kasabian, Justice, Snow Patrol, Fleet Foxes, MGMT, among others, and with the latest addition of Arctic Monkeys!

Artists confirmed by days:

Thrusday 12th of July: Pearl Jam, Tame Impala, Kasabian, Justice, Fleet Foxes, MGMT, Eeels and more.

Friday 13th of July: Arctic Monkeys, Jack White, Massive Attack, Franz Ferdinand, Snow Patrol, Alice in Chains, James Bay, At the Drive In, Perfume Genius, Marmozets, Real Estate and more.

Saturday 14th of July: Depeche Mode, Queens of the Stone Age, Nine Inch Nails, Jack Johnson, Richie Hawtin, Rag'n'Bone Man, Future Islands, Black Rebel Motorcycle Club, Wolf Alice and more.

In this year's edition, the Mad Cool festival moves from the Caja Mágica to a new venue located in the north of Madrid. This location, which is called Espacio Mad Cool, is located in Valdebebas – Ifema; It is designed to house 80,000 people and has an area of ​​100,000 square meters.

This increase in capacity (of 35,000 people per day) responds to a need for evolution and growth whose objective is to make Madrid, once and for all, a city of reference for live music of large format. The second novelty of the 2018 edition is the seven stages (compared to the five of the 2017 edition) that will star in the new Mad Cool venue. The supply and variety of bands is expanded to meet the demand of the audience.

In addition, the festival will have a new and renovated restaurant area. We will continue supporting the different artistic disciplines with Mad Cool Gallery and the Mercado del Arte: meeting spaces in which the author's creations are the true protagonists.

Do not miss out on seeing your favorite artists and buy now your day ticket for Mad Cool 2018.
Sorry, no results found for 'Mad Cool Festival 2018'
Browse by category