Leyendas Del Rock tickets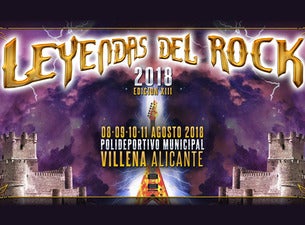 ¡Now available tickets for Leyendas del Rock 2018!

Leyendas del Rock is one of the most important 'heavy-metal' festivals of the Valencian Community and a reference for the fans of all Spain. It is also one of the few events of these proportions with itinerant character, since between 2006 and 2012 was held in different cities in Murcia and since 2013 has been the scene of Alicante Villena. The delivery of both artists and attendees is absolute, which explains why the duration of the festival is increasing.

The idea of ​​organizing an event that would serve to attract the best of national hard rock goes back to 2006, when the possibility of recovering the 80's Mazarock festival was raised. This was the reason why Mazarrón would be the first venue for an event that would soon open to international groups and artists. After its passage by San Javier and Beniel (Murcia), Leyendas del Rock has taken root in Villena under the management of Sufriendo & Gozando (a company that also organizes Rivas Rock among other events).

In 2018 artists like Warlock, Sonata Arctica, Sepultura or Nightwish, will form a line-up for the next edition to be held in the middle of August.

Buy tickets and season tickets for Leyendas del Rock 2018.


Sorry, no results found for 'Leyendas Del Rock'
Browse by category