Guns N' Roses: Not In This Lifetime Tour tickets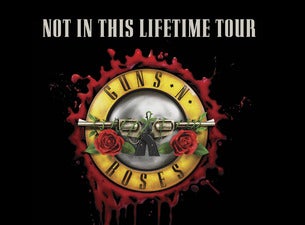 Ver vídeo
Find out all the information about the sale of the tour 'Not in this Lifetime Tour' of Guns'N'Roses
aquí
.
Guns N'Roses, a legend in the history of music
Establish in 1985,
Guns N'Roses
is one of the most legendary bands in the history of contemporary rock, reaching to sell more than 100 million albums worldwide. The American band has undergone ups and downs and several changes in the formation, but they are still an icon of the hard-rock genre and in 2016 they were back to stage again.
Influenced by groups such as
The Beatles, Queen, AC/DC or The Rolling Stones
, the members of Guns N'Roses knew how to create in the '80s and' 90s a unique style that raised them to absolute fame. Led by Axl Rose, the Guns N'Roses have published six studio albums and several live albums and compilations so far. 'Appetite for Destruction', their first album, has been the best-selling debut album in history, with approximately 18 million copies, and their studio discography is as follows:
- Appetite for Destruction
- G N' R Lies
- Use Your Illusion I
- Use Your Illusion II
- The Spaghetti Incident?
- Chinese Democracy

Famous for their musical talents and also for their excesses, members Guns N'Roses have come and gone over the years according to their disagreements and additions. Disagreements and the yellow press aside, many people consider that at the end of the eighties Guns N'Roses won the title of "best rock band in the world" and still maintain their status.
In the spring of 2016 the original formation of Guns N'Roses came together to perform at the
Coachella Festival
and Axl Rose debuted this year as a vocalist of
AC/DC
replacing Brian Johnson, who suffers from severe hearing problems.
Now, Guns N'Roses is spinning around the world with the
tour 'Not in this lifetime...'
, which will take them to South America, Japan and Australia, among other countries. The
Guns N'Roses tour
also went through Spain, specifically Bilbao and Madrid.
Sorry, no results found for 'Guns N' Roses: Not In This Lifetime Tour'
Browse by category