FIB 2018 tickets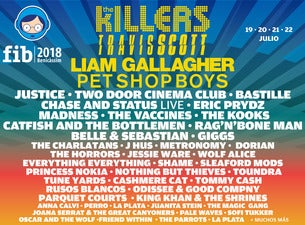 FIB 2018 full festival tickets

Don't miss out on your FIB 2018 full festival tickets! FIB 2018 line up is headed by The Killers, Liam Gallagher and Travis Scott. Their performance join the first bands confirmed Two Door Cinema Club, Wolf Alice, Bastille, The Vaccines, Catfish and the Bottlemen and many more.

After his legendary solo debut in 2017's FIB, Liam Gallagher is back to preset his overwhelming new album 'As You Were' in Benicassim. Along with him, one the most important names of this year's line up: The Killers, authors of great hits such as 'hits' Mr. Brightside', 'When You Were Young' or 'Human', songs they will perform live as well as new new ones. Hip Hop lovers are lucky too, Travis Scott has an amazing show ready for the first night of the festival. This and many more concerts will make of FIB 2018 an unforgettable date.

FIB 2018 promises to be one of the most important editions of he last years. The line up will unfold little by little with great artists, Benicàssim's yearly edition is closer every time. Still with last year's edition in mind, one of the summer festivals par excellence returns. FIB 2018 full festival tickets are now available and the count down to live another unforgettable summer in Benicassim starts.

FIB festival /b> is a world reference with an international fibers audience, a cheerful atmosphere, which are the stars in the best concerts with the most important bands of nowadays and true legends.

Every year FIB's audience have a blast in this great party, where we have already seen Muse, Blur, Arctic Monkeys, Kendrick Lamar, Florence + The Machine and many more who are already part of the big list of bands who have played in this Festival and that will continue to bring unforgettable concerts.

For this, and for everything it means, FIB has been awarded with the British Festival Award for Best Foreign Festival and has won awards in several categpries in the Fest Awards

For all this and much more FIB 2018 is your most important date for the summer! Buy your full festival tickets for FIB 2018. No et quedis sense el teu abonament del FIB 2018! El cartell del festival de Benicàssim 2018 l'encapçalen The Killers, Liam Gallagher i Travis Scott. Aquestes actuacions se sumen a les primeres confirmades de Two Door Cinema Club, Wolf Alice, Bastille, The Vaccines, Catfish and the Bottlemen i molts més.

Després del seu mític debut en solitari al FIB 2017, Liam Gallagher torna presentant el seu rotund disc 'As You Were' a Benicàssim. L'acompanyen al capdamunt del cartell d'aquest any The Killers, culpables de grans hits com 'Mr. Brightside', 'When You Were Young' o 'Human', temes que interpretaran en directe juntament amb cançons actuals. Els amants del hip-hop estan de sort també, i és que Travis Scott té preparat un espectacle increïble per la primera nit del festival. I un llarg etcètera de concerts que faran del FIB 2018 una cita inoblidable.

Sens dubte, el FIB 2018 promet ser una de les edicions més potents dels últims anys. Amb un cartell que es va desvelant a poc a poc però amb artistes de gran nivell que l'encapçalen, la cita anual de Benicàssim cada vegada està més a prop. Encara amb la ressaca de l'edició de 2017, torna un dels festivals estiuencs per excel·lència. Ja estan a la venda els abonaments per al FIB 2018 i comença el compte enrere per a viure un altre estiu inoblidable a la localitat castellonenca.

El festival FIB és tot un referent mundial al qual assisteixen fibers de diferents països i que, en un ambient completament divertit, són protagonistes dels millors concerts de les bandes més importants d'avui i d'autèntiques llegendes.

I és que, cada any, el públic del FIB s'ho passa mot bé en aquesta gran festa per la qual han passat Muse, Blur, Arctic Monkeys, Kendrick Lamar, Florence + The Machine i tants altres més que formen part de la gran llista de bandes que han tocat al Festival i que, l'any 2018, seguiran passant per a fer concerts inoblidables.

Potser per això, i per tot el que és, el FIB ha sigut guardonat amb el Festival Award britànic al Millor Festival Estranger o ha guanyat en diverses categories als Premis Fest.

Per això i molt més el FIB 2018 és la teva cita ineludible de l'estiu! Compra ara els teus abonaments per al FIB 2018.
5 Events for FIB 2018
5 Events
Events in

Spain

(5)
FIB 2018 - Pago fraccionado (1er Pago)
FIB 2018 - Abonados Villarreal C.F.
FIB 2018 - Comunidad Valenciana
FIB 2018 - Pago Fraccionado (2º Pago)