Disney In Concert tickets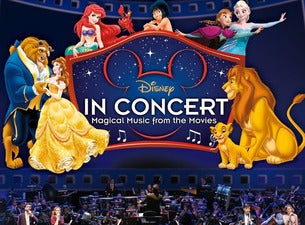 Watch video
Disney in Concert tickets
The most expected tour for the nostalgic.
Disney in concert: Magical Music from the Movies tickets
!
now available ! The tour with the best Disney movie songs goes all over Spain. The most complete symphonic Disney Show, with singers and spectacular projections, goes over the most emblematic Disney film soundtracks' in a show specially thought for several generations that grew up with Disney melodies.
After performing in Teatros del Canal in Madrid and Palacio Euskalduna in Bilbao, Disney in Concert: Magical Music from the Movies begins their tour all over Spain hosted by Anabel Alonso. The first stop of
Disney concerts
will take place in
Starlite Festival in Marbella next
30 July. .
Under Arturo Díez Boscovich's direction, a Symphonic Orchestra, and Paco Arrojo, Diego Rodríguez, Judith Tobella and Julia Möller vocalists will be performing the most famous Disney film soundtracks'. Songs from Pocahontas, Aladdin, The Lion King, The Jungle book, The Hunchback of Notre Dame, Mary Poppins, Pirates of the Caribbean, The little Mermaid, and the most popular amongst younger audiences, Frozen.
Don't miss the chance to feel like a child again and buy your
Disney in concert: Magical Music from the Movies tickets
!
3 Events for Disney In Concert
3 Events
International events
International
(3)
Disney in Concert

Sun

19:30
Disney in Concert | Suiten-Tickets

Sun

19:30
Disney in Concert | Upgrade Catering

Sun

19:30