Demi Lovato tickets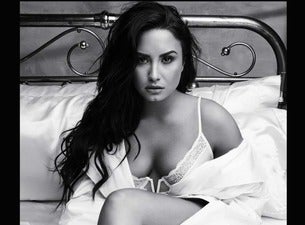 Demi Lovato has announced a European tour. Madrid and Barcelona have been the Spanish cities chosen to present their show in our country. The American singer and actress will perform on the 21st of Juny in Sant Jordi Club and on the 22nd of Juny at Palacio Vistalegre. In total he will celebrate 14 concerts throughout the continent under the name of his last album "Tell Me You Love Me Tour".

Demi Lovato started the musical career in 2008 with her first album titled 'Don't Forget'. From that moment until the present, Demi has published a total of 6 albums. The aforementioned, 'Here We Go Again" (2009), "Unbroken" (2009), "Demi" (2013), "Confident" (2015) and his latest and most recent work "Tell Me You Love Me" (2017).

Over the years Demi Lovato has accumulated many nominations and awards both in his role as a singer and as an actress. In 2017 she was nominated in the Grammy for her previous work "Confident", with which she managed to be in the top 10 of the best international pop music charts.

Buy your tickets for the Demi Lovato concerts in Barcelona and Madrid and enjoy this great live voice.


Sorry, no results found for 'Demi Lovato'
Browse by category