Cirque du Soleil - OVO tickets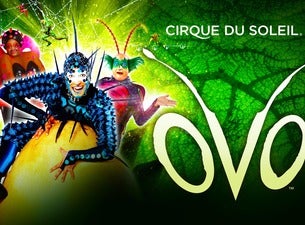 Do not miss the new Cirque du Soleil show!

Cirque du Soleil is always synonymous with emotion. The company formed more than 30 years ago in a town near Quebec (Canada) is a world reference. Combining circus arts, music and acrobatics, the Cirque du Soleil shows have become famous around the world and there are already more than 100 million spectators who have enjoyed the company's shows.

Cirque du Soleil was born with the aim of entertaining, moving and evoking a magical world wherever it performed. And they have achieved it. The fantastic shows of this unique circus have earned them numerous awards and recognitions throughout these years. Some of the most famous performances of Cirque du Soleil are 'Nouvelle Expérience', 'Saltimbanco', 'Alegría' or 'Quidam'.

Cirque du Soleil arrive now with their show 'OVO' . OVO is an ecosystem where life overflows and insects work, play, fight while seeking love in a continuous waste of energy and movement. The insects are stunned and they feel an intense curiosity when a mysterious egg appears among them that represents the enigma and the cycles of their lives. The new show of Cirque du Soleil OVO is designed for young and old because the magic that emerges from the show will leave everyone in awe. In OVO live emotion, intrigue and magic, much magic.

Buy now your tickets for OVO , the new Cirque du Soleil show!
35 Events for Cirque du Soleil - OVO
35 Events
Events in

Spain

(10)
OVO "Cirque du Soleil"

Fri

21:00
OVO "Cirque du Soleil"

Sat

17:30
OVO "Cirque du Soleil"

Sat

21:00
OVO "Cirque du Soleil"

Sun

16:30
OVO "Cirque du Soleil"

Thu

21:00
OVO "Cirque du Soleil"

Fri

21:00
OVO "Cirque du Soleil"

Sat

17:30
OVO "Cirque du Soleil"

Sat

21:00
OVO "Cirque du Soleil"

Sun

16:30
OVO "Cirque du Soleil"

Sun

20:00
International events
International
(25)
Cirque du Soleil - OVO

Thu

20:00
Cirque du Soleil - OVO | Suiten-Tickets

Thu

20:00
Cirque du Soleil - OVO | Upgrade Catering

Thu
Cirque du Soleil - OVO

Fri

20:00
Cirque du Soleil - OVO | Lounge-Tickets

Fri

20:00
Cirque du Soleil - OVO | Suiten-Tickets

Fri

20:00
Cirque du Soleil - OVO

Sat

16:00
Cirque du Soleil - OVO | Suiten-Tickets

Sat

16:00
Cirque du Soleil - OVO | Upgrade Catering

Sat

16:00
Cirque du Soleil - OVO

Sat

20:00